Pyrotector Exceeds Expectations For Projectile Testing
August 6, 2018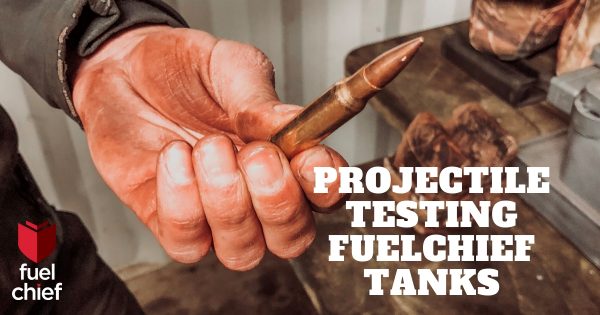 Tuesday 31st of July marked the official projectile testing date (part of an extensive certification and compliance process) of the Pyrotector double-skinned 2 hour- fire resistant tank.
Fuelchief's Technical guru John Garside and Marketing Manager Praneel Lal, headed out to a private testing ground with engineering auditor Joe Bain from JSK Consulting Engineers to undergo the testing. Joining them was Shaun from Gun City Christchurch who took aim and fired a selection of 150 grain (thickness of the bullet) bullets, from 100 feet away, into the carbon steel that is used to make the Pyrotector fuel tank.
This particular steel is known to be durable and can withstand the elements across a variety of geo locations. The results spoke for themselves in regards to the durability of the tank. The 8mm steel was tough to withstand the impact (see pictures below).
John said he was impressed with the test and that it "exceeded the regulations required". To find out more about the Fuelchief Pyrotector tank, please visit: http://fuelchief.co.nz/product/fuel-storage/pyrotector-fire-resistant-tank/ or contact John ([email protected])
Footage of the shoot available below, or visit our Youtube Channel.