5 Easy Ways To Upgrade Your Current Tripod Farm Tank To A Compliant Overhead Farm Tank
August 13, 2018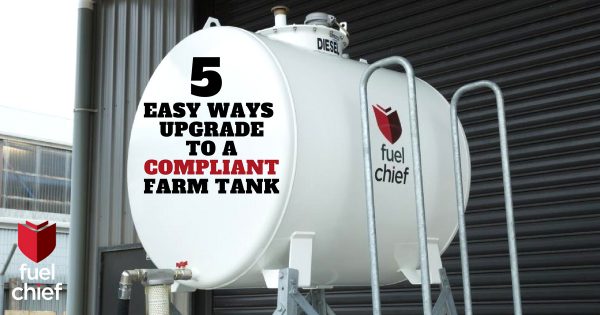 This post gives you the 5 easy ways to upgrade your current farm tank to a compliant farm tank.
Old style tripod tanks, commonly seen on farms for many years, have been given the big No-No from the Fuel Distributors Industry Safety Committee (FDISC). A meeting on the 1st of December 2017 saw the FDISC take action around the lack of safety with tripod tanks and agreed to implement the following:
• No new requests to fill tripod tanks will be granted
• Requests to refuel relocated tripod tanks will be declined
As of 1 May 2019, the FDISC commits to cease all refuelling of tripod overhead tanks (this initiative is supported by WorkSafe).
The FDISC supports all fuel distributors in not filling any unsafe tanks, if the tank isn't safe it will not be filled.  This stance has been supported by WorkSafe NZ. The FDISC have not been able to determine a date to cease filling of overhead tripod tanks, a date was discussed (being 1st May 2019) but was not ratified.
When it comes to tripod supports on tanks, the former Department of Labour (now WorkSafe) cancelled approval for manufacturing tripod (three-legged) stands for fuel tanks in 1996. At the time, farmers were told they could use existing tripod stand tanks until they reached the end of their working life. The life span of a farm tank may vary however many tanks that are still around must be replaced to meet standards.
Today, WorkSafe expects that most, if not all, tripod tanks are no longer in use, but we all know this is not the case. Farmers must make sure their tank's design and construction complies with HSNO design standards. No tripod-supported tanks comply with HSNO design standards.
Fuelchief are keen to work with customers who might be unsure of the regulations and want to swiftly get their tank storage situation sorted so no potential fines can be implemented. We have taken time to prepare for this and worked with a robotic precision manufacturer to create a range of compliant Fuelchief overhead farm tanks which are very competitively priced. These tanks meet the specifications listed on WorkSafe and API (in Australia).
So what are the 5 steps you can take today to look to upgrade your current hazardous farm tank to a compliant one?
1. Call us at Fuelchief so we can examine the situation for the type of replacement storage you require and what litreage might be best for your needs as well as pumping solution.
2. Once the new compliant farm tank is on-site, it needs to be positioned correctly where it can be easily accessed by vehicles needing to refuel and for tankers to refill it. We would recommend:
– Somewhere stable – therefore a foundation that will prevent subsidence. This is best achieved by mounting the tank legs on a concrete pad, concrete footings or compacted ground that is well drained and won't become boggy when wet.
– It is important that the feet of the support structure are attached to the foundation or the ground so that the structure will not tip when being climbed. This can be achieved by anchor bolts in concrete or by tying to posts or waratahs on compacted ground.
3. A removal expert (we recommend ECL Group who cover Australia and New Zealand) can transfer fuel to your new tank from the current non-compliant tank and ensure it is clean, whilst also disposing of the old tank.
4. You can now rest assured your tank is compliant (no nasty fines) and positioned safely to continue your re-fuelling needs.
5. It is best to ensure your farm fuel storage tank/s is routinely checked as this is where your machines stop to refuel, and you want to ensure any contaminants are removed so they don't get pumped into your equipment. We recommend a Fuelchief farm tank to be maintained at minimum once a year.
At Fuelchief we have compliant farm tanks ready to go and are keen to support customers as much as possible through the process to ensure these safety standards are achieved. Together we can meet any upcoming deadlines when refuelling any tripod overhead tank will discontinue.